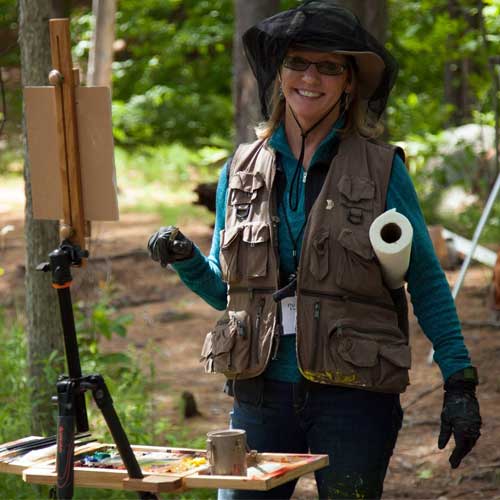 Meet Bruce
Having completed her Bachelor of Fine Arts from the University of Oklahoma in 1978, Bruce has pursued further education by attending over 36 workshops and courses taught by renowned artists from around the globe. After spending a decade living abroad, Bruce has recently returned to the United States and has chosen to settle in the vibrant city of Austin. Embracing the city's eclectic atmosphere, Bruce finds inspiration in capturing the local color and unique venues that Keep Austin Weird!
I
love painting in oils. I remember when I was five, it was summer. I was on our screened-in porch bending over a sheet of white paper laid out on the table where we ate supper. I could hear the waves lapping on the shore, smell the salt air on the breeze, and listen to the birds sing in my favorite tree as I smeared my finger paints across the page. Sometimes I would climb that tree to watch the sticky cocoons turn into butterflies. Sometimes I would charge across the sun-baked beach to the waters edge and grab a wet handful of sand to bring back to scrub into my finger paintings: bright colors and gritty, muddy mixtures.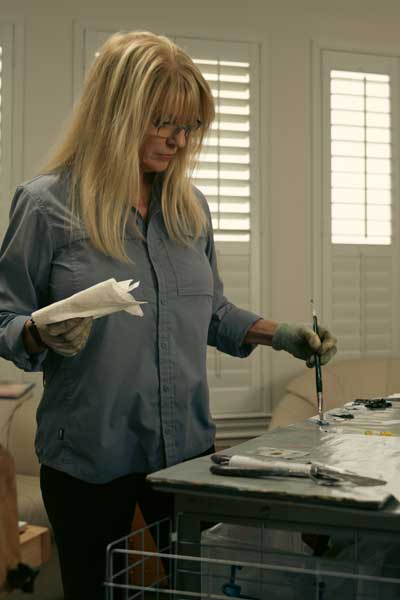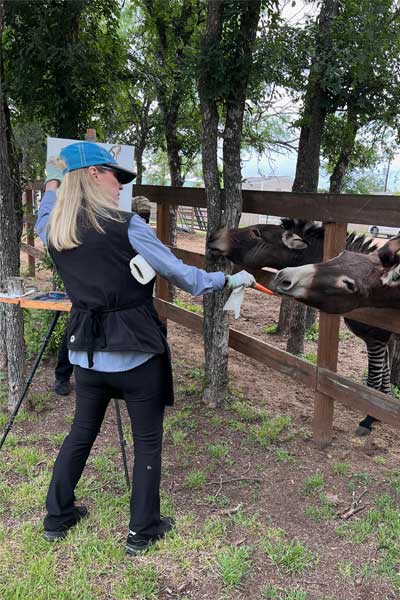 I love painting in oils with the lush bright colors and somber combinations that I can push around the canvas with my brushes or palette knife. The textures, layers and colors mesmerize me. The movement of my hands applying paint grounds me, and the smell of the oil paint drying calms me. Painting is my sanctuary where I play with the warm and cool colors, the range of hues and variations of texture- making sense of the world around me. Years later and now my studio is the cocoon nurturing my paintings before they take flight.
I see the essence of pure energy behind my reality. The colors, mood, and mystery of the moment intrigue and inspire me. I sense the magic and fleeting change of the fog before it lifts and the frost before it melts and squeeze it onto a flat canvas. I feel the texture of life and allow the paint to create its voice like the sunlight warming the soft fur of a cat. The more spontaneously I can allow myself to translate the energy in the language of painting the more unique my interpretation of reality. So I am a chaser of magic that glimmers and twinkles just beyond the surface of what I see, following fireflies shimmering on a warm summer's night. I love painting in oils.
Galleries
Beach Gallery
313 Laskin Road, Suite 104
Virginia Beach, VA
757-482-8139
The Little Gallery
301 Market Street
Roanoke, VA
540-721-1596
Collections
Hilton Hotels
Gold Key Development
Tucker Fine Arts Center, Virginia Beach
Suntrust Bank
Crestar Bank
Wachovia Bank
Central Fidelity Bank
Norfolk Psychiatric Center
Eastern Virginia Medical School
Portsmouth Psychiatric Center
Cape Henry Library
ADIsoft Corporation, Germany
Wilcox & Associates, Florida
Solo Exhibitions
2018 Cuba, Faded Beauty, South Street Art Gallery, Easton, MD
2011 In Living Color, St. Julians, Malta
2007 Coeur de Maison, Autun, France
2006 New Hope Gallery,New Hope. Penn.
2006 Kaleju Gallery, Riga, Latvia
2005 Cobalt, Va. Beach, Va.
2005 Beach Gallery, Va. Beach, Va.
2004 Beach Gallery, Virginia Beach, Virginia
2003 The Phillips Gallery, Cape Henry Collegiate,Virginia Beach, Virginia
2003 Beach Gallery, Virginia Beach, Virginia
2001 Decorum, Norfolk, Virginia
1997 Visions Gallery, Virginia Beach, Virginia
1996 Visions Gallery, Virginia Beach, Virginia
1995 Visions Gallery, Virginia Beach, Virginia
1995 Zeitgeist Gallery, Norfolk, Virginia
1993 La Galleria, Virginia Beach, Virginia
1988 The Stanley Gallery, Norfolk, Virginia
1987 The Stanley Gallery, Norfolk, Virginia
Group Exhibitions
2023 NOAPS Associate Online Exhibition
2022 NOAPS FALL International Online Exhibition

Best Use of Light & Colour

2022 Outdoor Painters Society Paint Kerrville

Award of Excellence

2022 AIS National Juried Exhibition
2022 Plein Vision in Miniature Exhibition

OPS

2022 NOAPS Associate Online Exhibition
2021 En Plein Air Texas - Open Division

3rd Place

2021 NOAPS Fall International Online Exhibition
2021 AIS 2nd Annual Online Exhibition
2021 WAOW 51st National Exhibition, The Museum of Western Art
2021 2nd Annual AIS Associate Members Online Exhibition

Award of Merit

2020 WAOW 50th National Exhibition Settlers West
2020 4th Annual AS Impressionist Society Small Works Showcase
2020 NOAPS Best of America Small Works National Juried Exhibition
2018 Plein Air Southwest, Rockport, TX
2018 Paint the Town, Marble Falls, TX
2018 Gateway International Painting Contest

Sept Finalist

2018 Artprize.org

Feb Finalist

2018 AIS Small Works Show, Greenwich House Gallery, Cincinnati, Ohio
2018 The Painted Garden, Beach Gallery, Va. Beach, VA
2017 En Plein Air Texas, Quick Draw, San Angelo, TX
2017 Paint The Town, Marble Falls, TX
2017 ArtPrize.org

Nov & Dec Finalist

2017 NOAPS Fall Showcase, RS Hanna Gallery, Fredericksburg. TX
2017 Spring Showcase, RS. Hanna Gallery, Fredericksburg, TX
2017 WAOW National Show, McBride Gallery, Annapolis, MD
2016 WAOW National Show, RS Hanna Gallery, Fredericksburg, TX
2017 Sedona Art Prize

Jan Finalist

2017 AIS Impressions - Small Works Showcase
2016 En Plein Air Texas Open Quick Draw

Best Concho Street Painting

2016 Kerrville, Texas Paint Out

3rd Place

2016 Sedona Art Prize

Oct & Dec Finalist

2016 Artists of Texas Annual Juried Show
2016 Long Beach Island Plein Air Plus

Honorable Mention

2016 Women Artists of the West Annual Juried Show
2016 Oil Painters of America Salon Show

Award of Excellence

2015 En Plein Air Texas Open Quick Draw

Best in Show

2015 Paint The Town, Marble Falls, Texas

Best in Show

2015 Oil Painters of America Salon Show
2015 Old Post Office Museum and Art Center 4th Annual National Competition
2015 Richardson Civic Art Society Regional Art Show
2014 AIS 15th Annual Juried Exhibition, Denver, CO, abendgallery.com
2014 The Painted Garden, Virginia Beach, VA, (757) 482-8139, beachgallery.com
2013 The Painted Garden, Virginia Beach, VA
2012 The Painted Garden, Virginia Beach, VA
2011 Kros and Kenosis, Malta
2010 National Art Competition Malta
2007 Chasen Galleries, Inc., Richmond, VA, (804) 204-1048, ChasenGalleries.com
2007 Chasen Galleries, Inc., Charlotte, NC, (704) 376-0066, ChasenGalleries.com
2007 Beach Gallery, Va. Beach, Va.
2007 The Little Gallery, Moneta, Va.
2007 Cadr'Art, Beaune, France
2006 Gallery on Merchant's Square, Williamsburg, Va.
2006 The Shooting Star Gallery, Suffolk, Va.
2006 West End Gallery, Winston-Salem, North Carolina
2006 Harbor Gallery, Norfolk, Va.
2006 The Little Gallery, Moneta, Va.
2006 Beach Gallery, Va.Beach, Va.
2005 Harbor Gallery, Norfolk, Va.
2005 Beach Gallery, Va. Beach, Va.
2005 The West End Gallery, Winston-Salem, North Carolina
2005 Nasemond Suffolk Show, Suffolk, Va.
2004 Moralas Gallery, Outerbanks, North Carolina
2000 Inizio, Phoenix, Arizona (National)
1999 South Beach Gallery, Virginia Beach, Virginia
1999 Greenleaf Gallery, Outerbanks, North Carolina
1998 The Artist's Gallery, Virginia Beach, Virginia
1997 Icirus,Glen Eure Gallery, Outerbanks, North Carolina (international)
1996 Crestar Bank, Norfolk, Virginia
1995 The Alternative Space, Virginia Beach, Virginia
1994 Contemporary Center for the Arts, Virginia Beach, Virginia
1993 Contemporary Center for the Arts, Virginia Beach, Virginia
1992 Artworks Gallery, Norfolk, Virginia
1991 Artworks Gallery, Norfolk, Virginia
1990 North Carolina Art Guild, Lexington, North Carolina
1986 Maryland Federation of Art, Annapolis, Maryland
1985 Maryland Federation of Art, Annapolis, Maryland
1980 Ghent Galleries, Norfolk, Virginia
Associations
Plein Air New Mexico
Women Artists of the West - Signature Member
American Impressionist Society, Inc. - Signature Member
American Women Artists
Outdoor Painters Society
Artists of Texas
Plein Air Austin